3 Tried and True ways to hire Remote Developers
Finding perfect workers is a challenge, especially when you are looking to hire a developer remotely. It's a time-consuming process that can become a nightmare if you rely on a trial and error method. Luckily, recruiters around the world have already accumulated enough experience for you to use.
Here are three tried and true practices to help you hire developers remotely. Pay close attention to the advantages and disadvantages of each method to choose the one that suits you.
Passive Search Through Job Boards and Freelance Sites
Some companies avoid this method, but it pays off beautifully if you have enough patience. The passive method involves simply posting job ads across remote job boards and freelance sites.
Your first step should be deciding on the desired target location for hiring remote workers. Consider which factors are more important to you: pay rate or level of expertise, convenient work schedule or English proficiency. If you want your remote developers to be able to work alongside the in-house team, choose the same time zone countries. For the USA, Latin America states can become a perfect match. If your headquarters are in Australia, your best bet are South-Eastern Asia countries, while Eastern European developers can easily reschedule their work to meet the EU companies' demands.
To find the best price-quality match, check out the annual Global Services Location Index. It gives a picture of offshoring landscape in 55 countries in terms of financial attractiveness, offshore developers skills and availability along with business environment evaluation:
India, China and Malaysia continue to lead among the Top-10 outsourcing destinations. Latin American countries like Chile, Brazil, and Mexico are becoming more and more popular, while Poland is the only European state to make the cut. Among the countries garnering more interest in the past few years are Ukraine, Romania, Argentina and Egypt. These states boast rather cheap multilingual IT workforce with an exemplary skill set.
To get an idea of an average annual pay for software engineers around the globe, skim through PayScale, GlassDoor, and Bloomberg's study. After that you will be able to use job boards and job board aggregators with a basic understanding of an acceptable pay grade for remote workers.
You might want to start by creating your company profile at Angel.co. It's an online platform that connects startups with investors and job-seekers. Creating company profile will let you make thousands of talented candidates aware of the jobs you offer. After that, check out some of the most popular job boards and freelance sites among remote developers, like Toptal, Freelancer, UpWork, Hired, RemoteOK, FlexJobs, Working Nomads, We Work Remotely.
Creating an alluring job posting is the most important and time-consuming part of the passive search. For your ad to attract the right candidates from the start, include every bit of relevant information. Describe your company and the type of job you need done, include any benefits of this specific position, list possible salary and project duration. Add main inquiries for the first stages of the screening process: request work samples or customer testimonials, ask if the candidate is willing to perform a skill test. Make sure your posting is informative, as ads lacking important information usually attract low-quality applications.
Passive search has some distinct advantages over other methods:
It does not require a lot of resources. Most job boards are free or require a minimal fee.
Your hiring campaign can continue indefinitely without extra input.
Time and effort investments to start the campaign are minimal.
Considering these pros, you should also keep the method's disadvantages in mind or run the risk of wasting time:
Prepare for a disappointment. Very often job board regulars or freelancers are neither very qualified nor experienced.
Do not expect quick results. Creating a constant stream of possible developers for hire through passive search takes time.
Get ready to spare a lot of resources for the inevitable screening process, interviews, and testing after receiving the applications.
The passive search is right for you if:
There is no time pressure
You are on a budget
You do not want to deal with professional recruiters
Multidirectional Active Search
If you need a timely solution to your staffing needs, active search methods might be better suited for you. When you decide to hire developers remotely, utilize multiple methods simultaneously to get results quickly:
Do some networking to find software developers working with your partners, business acquaintances or rivals. Fair warning: no one will thank you for stealing good workers.
Look through CVs posted on local job boards. Fair warning: such boards rarely operate in English, so some level of the local language understanding is a must.
Use specialized networking sites to connect with professionals. LinkedIn, Xing, and Viadeo are the most popular ones, but you can try your luck with Makerbase or Beyond. Fair warning: finding your perfect developer among millions of professionals will take a good deal of time and effort. Check out which professional network is more popular in your chosen offshore/nearshore location using Google trends: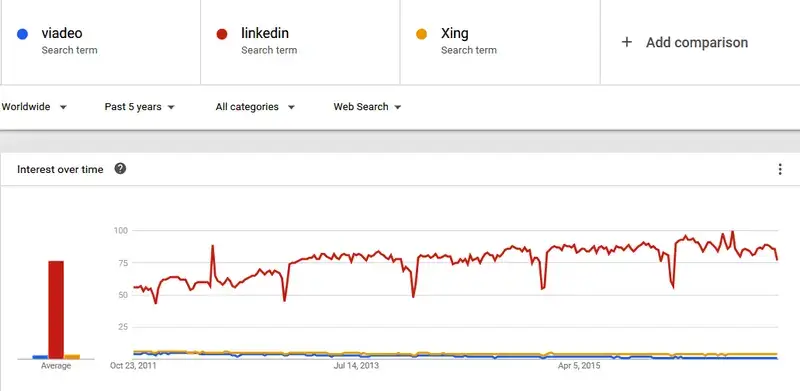 The best thing about active search is that you can pick and choose the people you wish to interview instead of waiting for random applicants to notice your ad. Through professional networks, you can check developer's credentials, skim their work examples and read customer testimonials before contacting the developer you're interested in.
The biggest problem awaiting you on job boards and professional networks is a lack of interest from those candidates you find acceptable. Remember, that not every developer out there is on a constant lookout for a new job. You will have to be creative to make your proposition irresistible for those who actually consider working on new projects. Looking for perfect candidates this way can take weeks, if not months, so don't give up too quickly.
Choose this method to find developers if:
There is enough time and patience to sort through thousands of CVs and profiles
You do not trust anyone to screen possible applicants
You want to save on intermediary's payments
There is an alternative for those who are not pressed for money and are looking to save a lot of time. A local recruiter can do all the pre-screening work for you. However, be advised that efficient recruiter's commission usually equals to 15% of the hired developer's yearly income. It can break your bank if you are not looking for a long-term HR investment. However, there is another way to save time and find ideal remote workers with limited extra expenses.
Hire Developers Through an Outsourcing Provider
If you're in need of a developer for the long haul, you should consider hiring through a software outsourcing company. First, browse several service providers in the chosen offshore/nearshore location. Then request a quotation and describe your needs, including the desired expertise, experience, engagement duration, etc. After that, all you have to do is wait while professional recruiters find the best candidates fulfilling all your requirements. And the best part is that you get to work with a short list of pre-selected and tested applicants. All you have to do is to conduct a final interview and choose the perfect people for your job.
There are many advantages of hiring developers through a local service provider:
You save a lot of time by working with pre-selected candidates
You enjoy a full cycle of services, from 100% customized recruitment to providing your workers with comfortable office space.
All of your remote assets will be gathered in one office under constant supervision, ensuring smooth operation of the whole team.
The service provider will take care of all legal aspects of hiring remote developers.
Obviously, you will have to pay some standard fee to a service provider for taking care of your remote employees. However, taking into account all the time and resources you will save by using professional help, this way of hiring offshore developers may be the most viable option for long-term projects.
This method is ideal, if you:
Need to hire developers fast
Need remote employees for a full-time engagement
The job is long-term (a minimum of one year)
Need more than one developer
Want to invest minimum efforts in the recruitment
Can afford some extra expenses
Want all your remote employees working in one office
Now you know the three tried and true ways to hire remote developers, whether you plan on revolutionizing the industry or fulfilling a small project. Your search is bound to be successful if you always keep your main requirements in mind and weigh the pros and cons of every method before choosing the best course of action.