Integration of Payment Gateway
The influx in digital customers turns out to be an excellent opportunity for companies running an online business. However, integration of payment gateway that enables customers to pay for goods online may become an arduous challenge. That's because there are different types of payment gateway integration to choose from, and it's always crucial to ponder fees, data security, and technical issues. An inexperienced person can get confused and choose not the best. That's why we've prepared an overview of principles of work, types, and benefits of payment gateway—from PayPal to Stripe.

Essence and Operating Principles of Payment Gateway
A payment gateway is a mechanism or network that's applied to move money from client's to seller's bank account.
To put it more bluntly: it's a mediator for business operations. The tasks performed by a payment gateway boil down to capturing data, verifying the availability of funds in the customer account, and conducting the transaction. It will be easier for you to understand a payment gateway as a point-of-sale (POS) terminal analogy. As you know, POS terminals process transactions in offline stores where customers use bank cards to pay for the purchases.
Although commercial banking transactions may seem clear and simple, they involve a lot of chains—from banks to interbank networks to other financial institutions.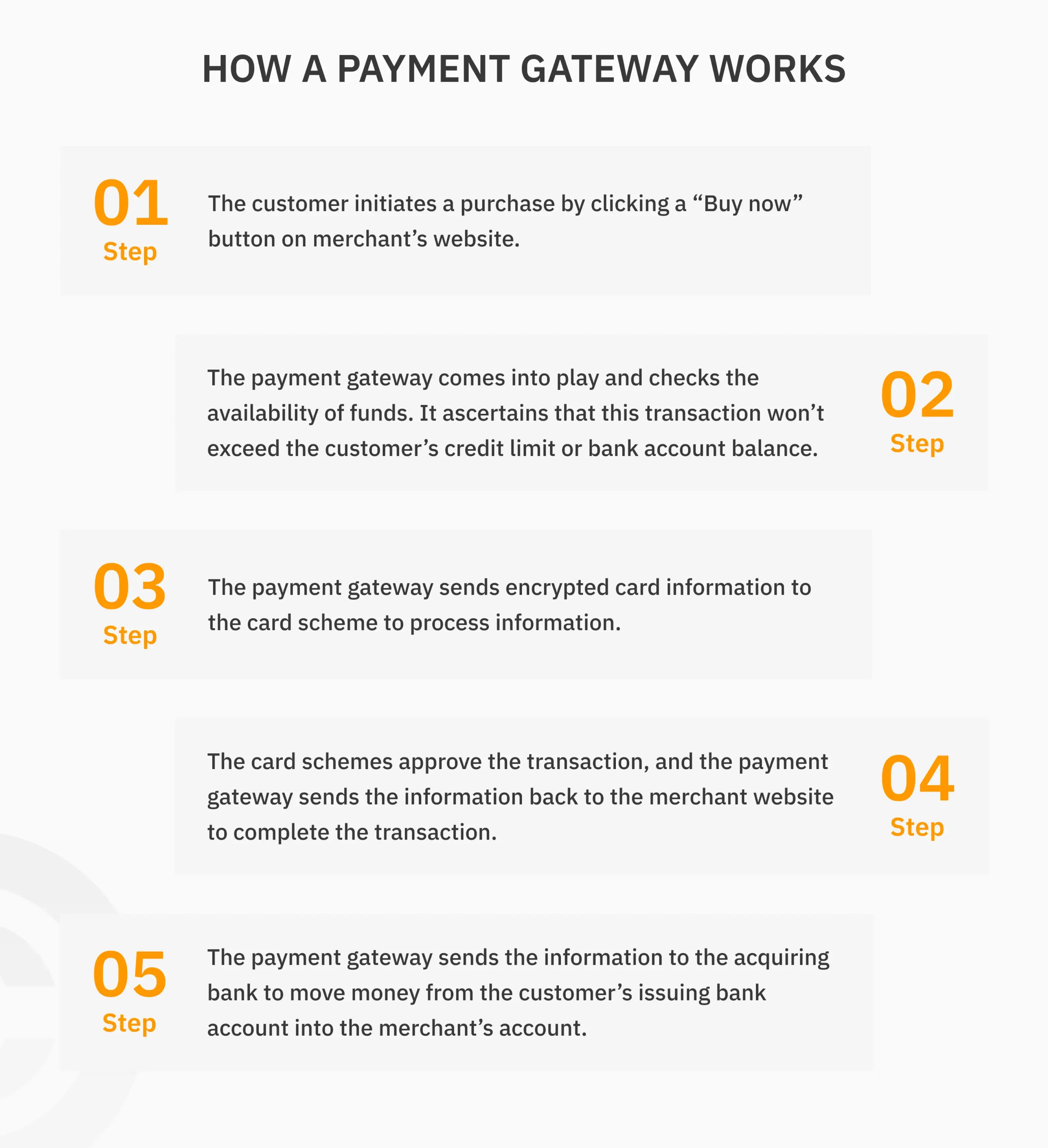 Before diving deeper into types of payment gateway, we'd like to mention that the payment gateway market is steadily growing. As of 2022, payment gateway market value is $26.79B, but in 2030, it can reach $132.24B, with a CAGR of 22.1% in the forecast period.
The flow of the process depends on the type of a gateway process:
Redirect (customers are redirected to payment processors which process transactions);
Off-site payment (clients make purchases on the particular websites, and information is transmitted to the servers of payment providers);
On-site payment (transactions are processed directly on the website of those who sells a product or a service).+-
Payment Integration for Website: Steps & Providers
Merchants can receive payments from customers via debit and credit cards, bank transfers, e-wallets, cryptocurrency, and so on. So, adoption of payment integration depends on the type of transactions the merchant aims to support on the website or in the e-commerce store. Moreover, it should comply with financial regulations, including Payment Card Industry Data Security Standard (PCI DSS). This standard was adopted by the major card companies, from American Express to Visa, in 2004.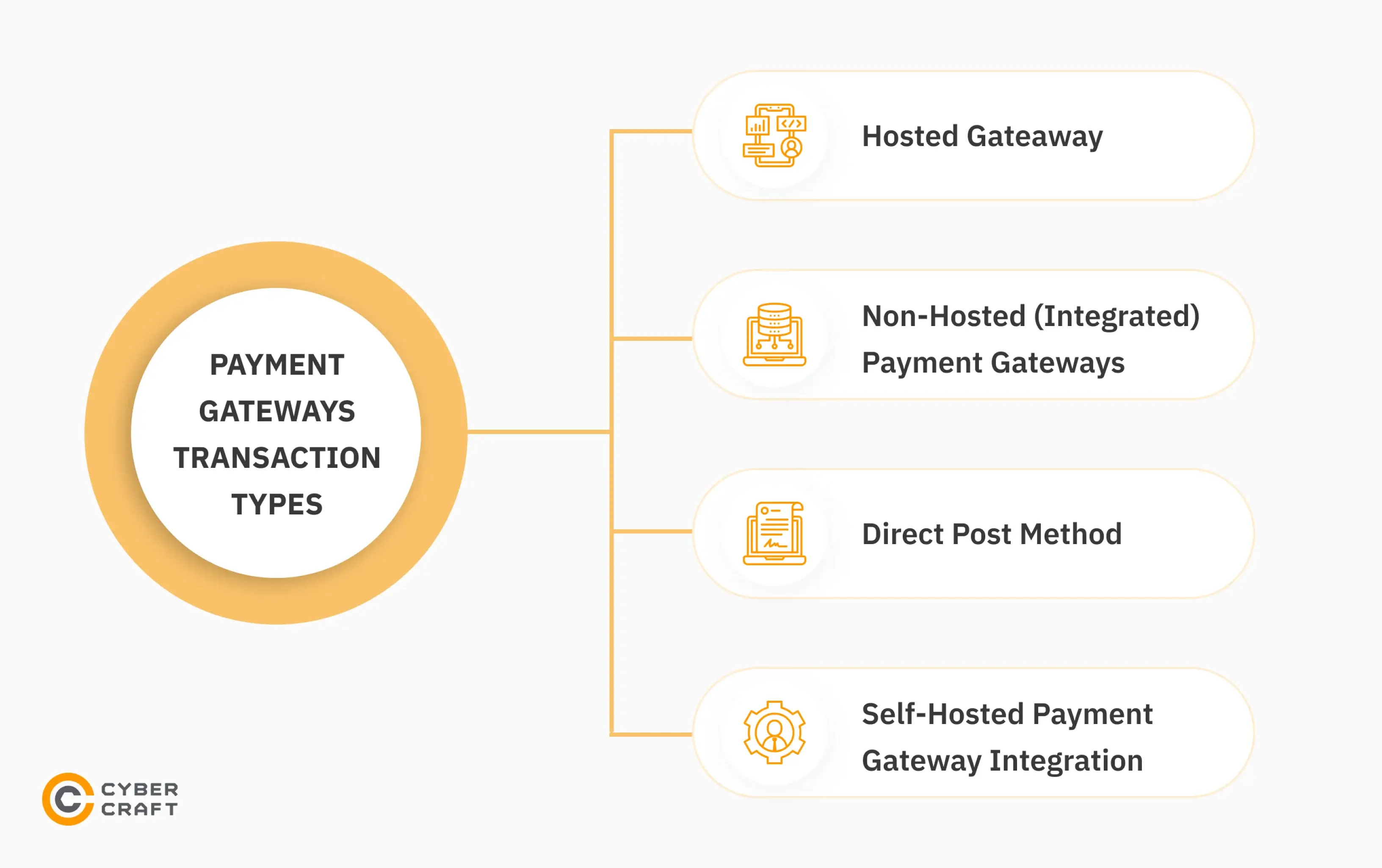 Setting up a payment integration for website consists of the following steps
1. Analysis of the target audience
Businesses must know their target audience and build a payment integration for a website according to the needs of their clients, both existing and potential. It's crucial since if payment options that meet customer expectations and preferences fall within a gray area, companies lose clients. Moreover, preferences of clients and the legislation related to payments can differ depending on the country. So the first step towards payment integration unites efforts focused on knowing your clients better. Try to answer the following questions:
Where do your clients live?
How do they pay for products and services?
What devices do they use to access the website?
Regarding the last question, the answer is of paramount importance: mobile customers may prefer Apple Pay or Google Pay, and this will influence the implementation process.
2. Comparison of the providers and choosing the best one
It's obvious that you should opt for the provider who meets your needs and clients' expectations. Of all the features to be taken into account when choosing a service provider, SSL connection, adhering to the PCI DSS, and verification of a card code are the most important.
SSL stands for the Secure Sockets Layer, a protocol for the encryption of sensitive information. To put it more bluntly: SSL protects payment card details when transmitting them
between the client's browser and server. SSL will be visible to your clients: they can see an icon of the lock in the address line, which also starts with https://.
PCI DSS (Payment Card Industry Data Security Standards) consist of requirements with which merchants and organizations that store, process, or transmit cardholder data
should comply. And if online stores use payment systems not in compliance with PCI DSS, they jeopardize cardholder information, thus putting their reputation at the line.
Inappropriate storing of card numbers, card expiration dates, and payment verification codes provoke the subsequent leak of data and breaches.
At CyberCraft, we take into account not only security aspects but dozens of other criteria when choosing the payment gateway provider for the particular project. We have had a chance to design and customize payment integrations for online stores, P2P services, and platforms for money withdrawal and transfer. That's why, when it comes to the payment implementation, the CyberCraft team can strengthen the final solution with multiple additional features:
Convenient login options (ordering on the website without a need to create an account increases the likelihood of the purchase);
Additional authentication layers (help securely restore a password in case it's forgotten);
Integrated payment solution (user experience won't be disrupted by redirection to a payment website);
Visualization of the payment process (with this feature, clients can track the progress of the checkout process);
Confirmation of checkout (the client gets the opportunity to review the cart and change, for instance, the quantity of tools before confirming the order).
FAQ
Why use Ruby on Rails and hire Ruby on Rails developers?
Ruby on Rails has been used as a full-stack framework to build high-performance web platforms and database-backed web applications since 2005. Actually, a large number of products for different domains are empowered by Ruby on Rails, e. g. Shopify (eCommerce stores), Airbnb (booking service), Github and Gitlab (code repositories), Crunchbase (provider of business-related information), Twitter (social media platform), Basecamp (project management & collaboration platform).
Having appeared as a framework consisting of tools to build web apps on the front and backend, Ruby on Rails (RoR) is still in use in 2023. Currently, businesses hire Ruby on Rails developers to work on startups, MVPs, and prototypes — all the products requiring fast development. However, RoR may be suitable even as a technology to develop rapidly growing products:
How to scale Ruby on Rails app?
The experienced .Net team applies the latest web and app development techniques to help you ensure the best results via effective IT solutions. CyberCraft deliver both scalable and effective custom solutions to match your needs.
What principles make Ruby on Rails stand out from other technologies?
The experienced .Net team applies the latest web and app development techniques to help you ensure the best results via effective IT solutions. CyberCraft deliver both scalable and effective custom solutions to match your needs.