Real Estate CRM Software
By highlighting the core essence and significance of real estate CRM software, we pursue the aim of altering business attitude towards modern tools, project management, and automation. Before diving deeper into benefits of CRM for realtors and brokerages, let's sort out what a CRM in real estate is and how its functionality may be applied in practice.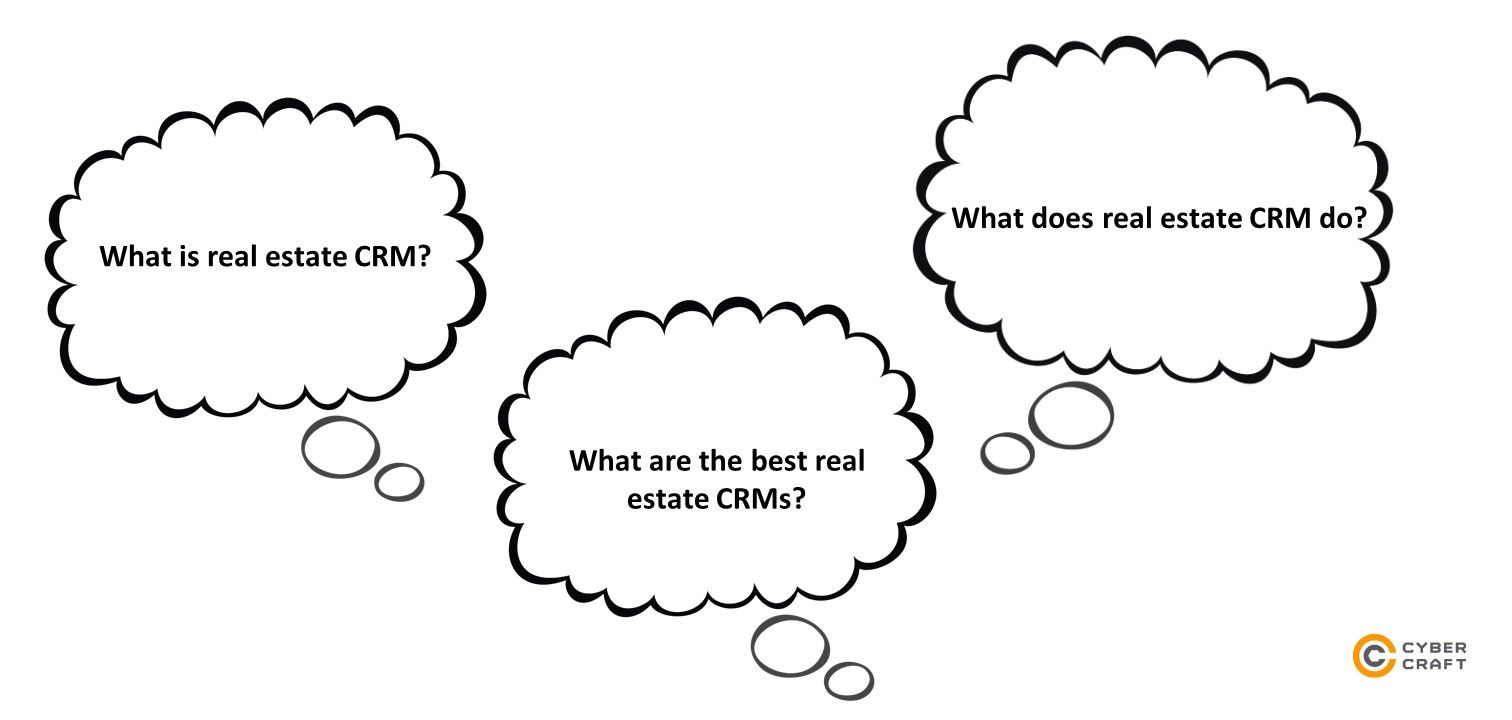 Real estate CRM is the system for relationships management that allows realtors, brokerages, and agencies to manage all leads in one place, thus streamlining deal pipelines and centralizing contacts.
Once the CRM software is introduced, disorganization and human errors will be less possible. However, not all CRMs are suitable for real estate companies, as far as in-built features differ. These features may include follow-up or relationship marketing, reminders, lead routing, and transaction management.
What Does Real Estate CRM Do?
Real estate CRM software performs a series of tasks:
Management of real estate leads
Monitoring of lead generation campaigns
Contact management
Uploading and storing documents and contracts
Structuring data related to leads, prospects, and customers
The basic configuration and available customizations depend on the CRM provider, yet you can opt for custom CRM with the suitable interface, integrations with Google Calendar or other applications, management of campaigns on advertising spaces, omni-channel communication (using all types of channels for interaction with customers and prospects), and so on.
Real estate companies use CRMs to facilitate the business management. And realtors, whose earnings in gross commission income start from $100 000, are more than twice as likely to apply CRM and other advanced software than agents with lower income.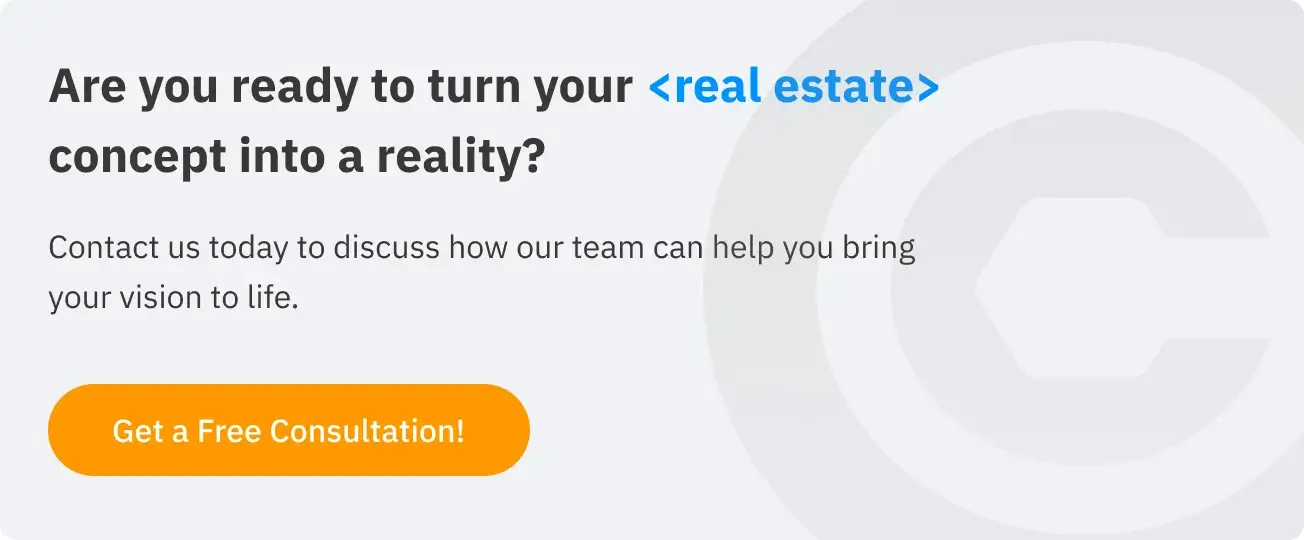 Real Estate CRMs – Statistics & Features
SuperOffice predicts that the CRM industry will have reached $80B+ in revenues by 2025.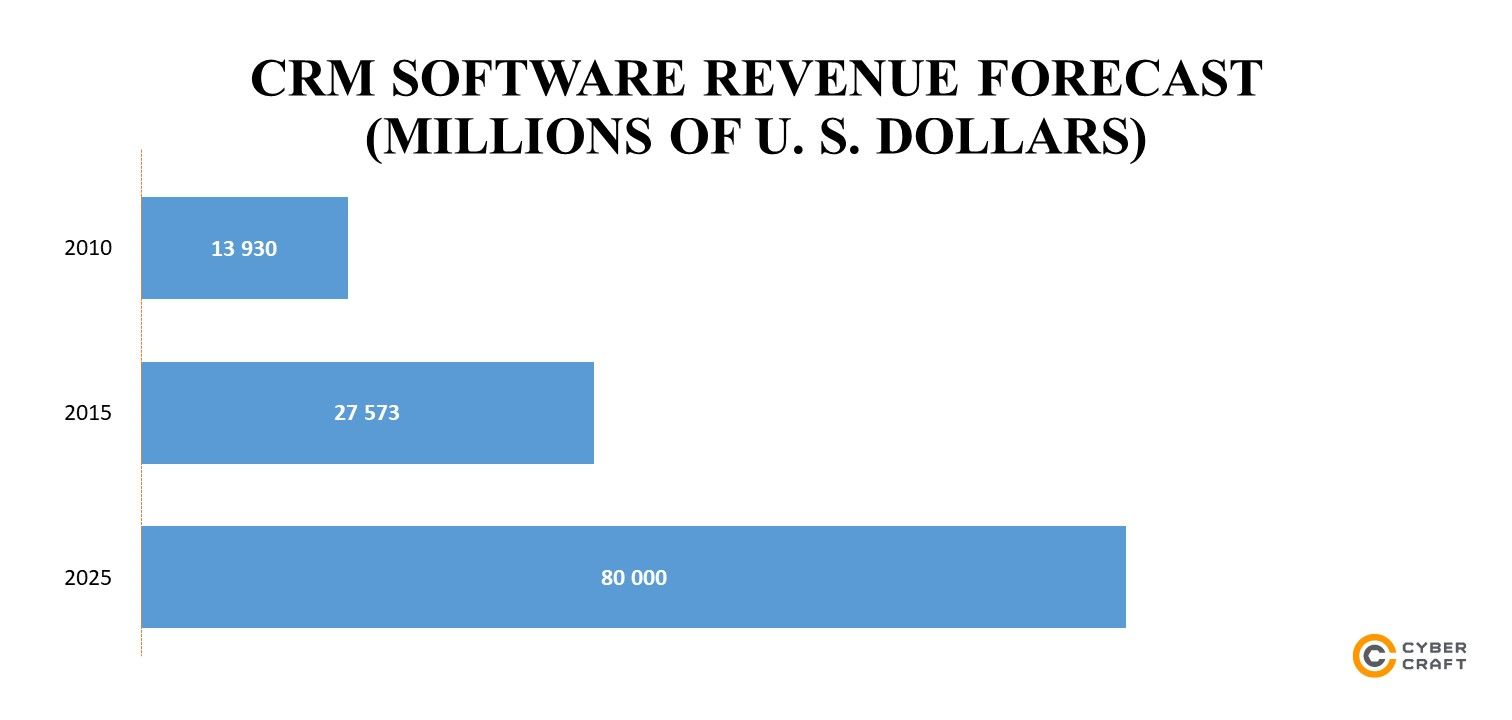 As far as real estate CRMs perspectives are clear, you may wonder what features such custom relationship management systems include.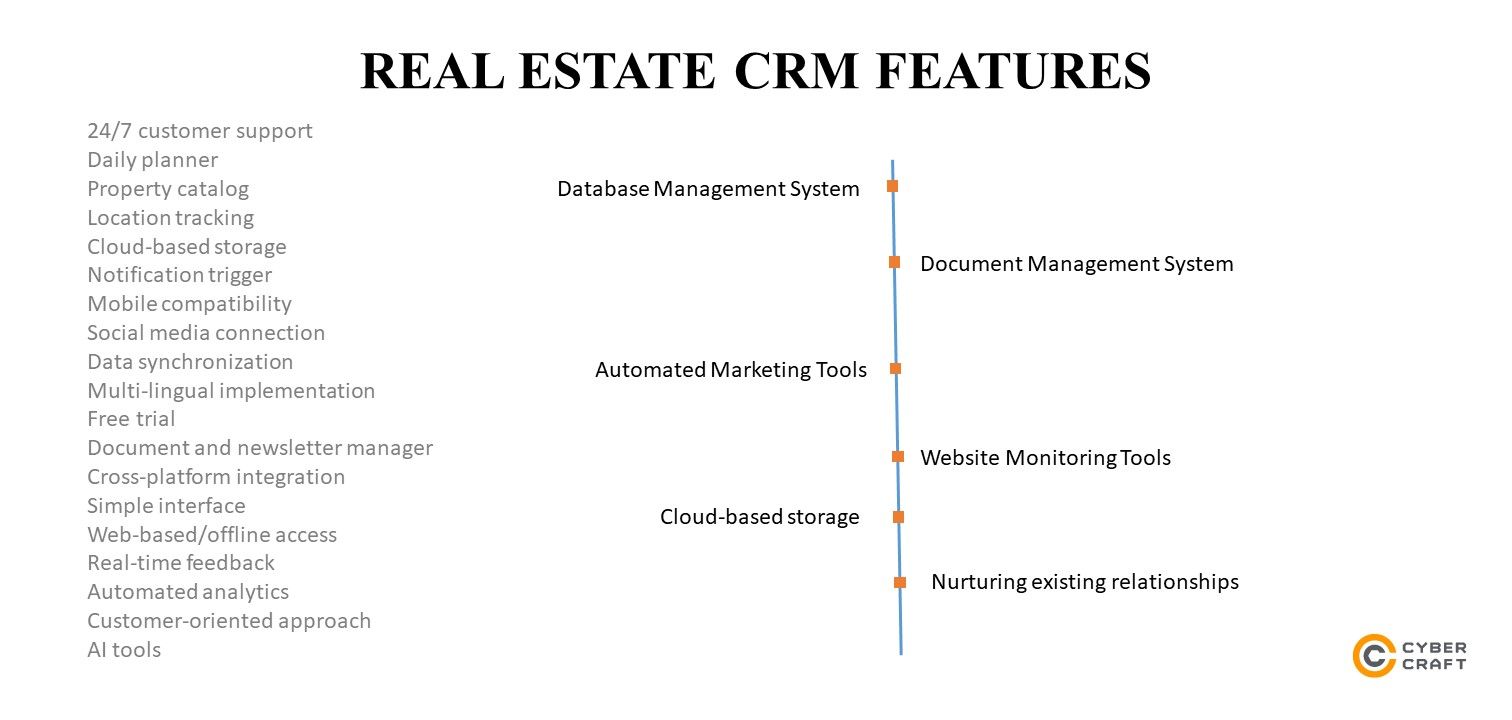 According to the research conducted by REAL Trends, nearly 72.5% of agents have a CRM system in plate. Custom relationship management systems enable them to increase productivity by at least 50%. However, 1 in 3 are unsure which CRM fits their needs, and we will help to find the best solution for each case.
TOP 7 Benefits of Real Estate CRM Software
1. Integration and automation of business processes
With commercial real estate CRM software, agencies control and automate business processes by eliminating redundant tasks related to data entry, emails (CRM creates personalized emails, thus allowing realtors to stay in touch with customers and increase property sales), and call logging. A vivid example of this advantage is an in-built system of sales automation that implies tracking of customer's activity, coordinating sales, and marketing. Posting ads on websites or adding properties to listings may be also automated by CRM, which is also capable of establishing the connection between the buyer and the appropriate listing.
2. Boosted lead generation
Conducting the right relationships with leads is the crucial step to increase the number of deals and new opportunities. In-built analysis modules of the CRM enable making informed decisions. Those who use simple spreadsheets to store data are more likely to enter wrong information or miss something. CRM may be integrated with other services to achieve the well-coordinated storing of the contacts.
As a result, all details related to leads are stored in one location, regardless of whether they come from the website, real estate portal, or even exhibition. With such a functionality of the CRM, real estate agencies may contact potential customers as fast as possible, thus providing high-quality service.
3. Retaining existing customers
Boosted lead generation overlaps with retaining existing customers. Real estate CRM software helps to maintain relationships with the customer by sending relevant greetings in case of anniversaries or other special dates. Such an approach plays into real estate agencies' hands, since customers can plan to invest more money in properties or recommend the agency to their friends, relatives, or acquaintances.
4. Simplified document generation
The whole document flow, from contracts to closing statements, can be coordinated by real estate CRM software. Therefore, stored customer-related data is automatically added to documents. That add-on component to the CRM solution simplifies creation of the documents.
5. Improved employee efficiency
Implementation of real estate CRM software contributes to better business workflow and higher employees' efficiency. With CRM, realtors automate manual tasks and access needed data that's stored in the integrated applications. The algorithm operates as follows: salespeople enter the data related to meetings with brokers and showing the premises to potential clients, so all team members stay updated. Tracking goals and sales allow them to set priorities and monitor the implementation of the tasks.
6. Drip campaigns management
CRM tools imply sending automated messages and emails to customers. However, not all of these messages should include advertising, data related to marketing, or last offerings, realtors can send useful tips on how to choose property, what to include in the process of the home maintenance, and so on. Companies assess which messages have resonated with the audience and improve their strategy. By drawing the right conclusions from this, realtors focus on what really works. To find new clients and opportunities, agencies can also apply features of geographic location systems.
7. Advanced level of security and invulnerability
Personal data hosted in the Cloud tends to be vulnerable, and this fact must be taken in account by real estate agencies. By using CRM, they minimize risks and operate in accordance with General Data Protection Regulation (GDPR).
While revealing vulnerabilities, we should mention that information security is classified on internal and external. Internal security in CRM foresees few levels:
Role-based security with granting of privileges to certain users
Record-based security with limited access to certain areas (only authorized users can view these records)
Field level security with limited access to entities or fields
External security includes all risks related to hosting data in the cloud. To avoid risks, CRM providers favor cooperation with reliable Cloud providers that apply encryption, monitor suspicious activity, and use other approaches to protect sensitive information.
Note: the list of benefits associated with real estate CRM implementation isn't limited to mentioned benefits – it's much more extensive and includes customer profiling and checklist management. Customer profiling means revealing crucial information about customers that's based on their preferences, purchase history, demographic data, etc. AI tools may be applied here for analysis and segmentation with further sending out messages to the target audience. Just imagine that your potential customers are enterprises involved in the production of equipment for healthcare or science labs, whom you can reach with the relevant offerings of the industrial offices. Checklist management reminds realtors to notify customers or new tenants of all important things, from further actions to move in policies. After closing the sale, it helps to ensure that everything runs smoothly.
Best Real Estate CRM Software – the Whole Nine Yards
HubSpot CRM includes features for contact management, email campaigns, meetings arrangement, tracking and sales tools, pipeline management, and so on. Its introduction facilitates the automation and coherence of tasks, including the possibility to be integrated with other applications used by the real estate agency.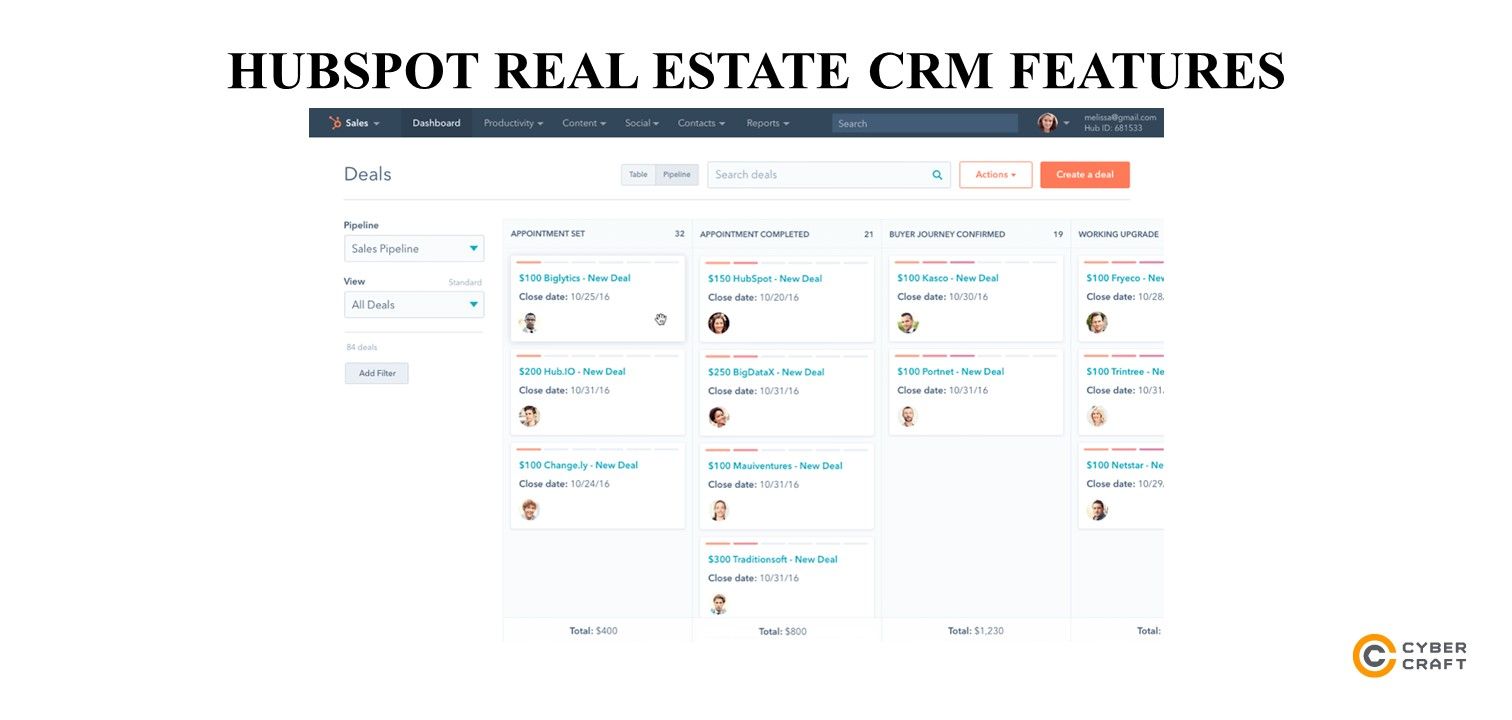 Success stories of HubSpot implementation prove that this CRM can help with onboarding of new employees, reducing human errors while interacting with the data, and stepping into digital transformation.
Prices for HubSpot aren't as affordable: professional CRM suite that provides advanced marketing, sales, and customer service software starts at $1600/mo. However, you are free to choose separate products and plans that are cheaper.
This CRM covers basic and specific needs of real estate agents. With Zillow Premier Agent CRM, companies easily reach potential customers on the network of leading websites. They also obtain client management tools, buyer insights, reminders, notes, performance tracking, customizable features, and so on. Solutions in Zillow Premier Agent are divided into three groups – for agents, teams, and brokers.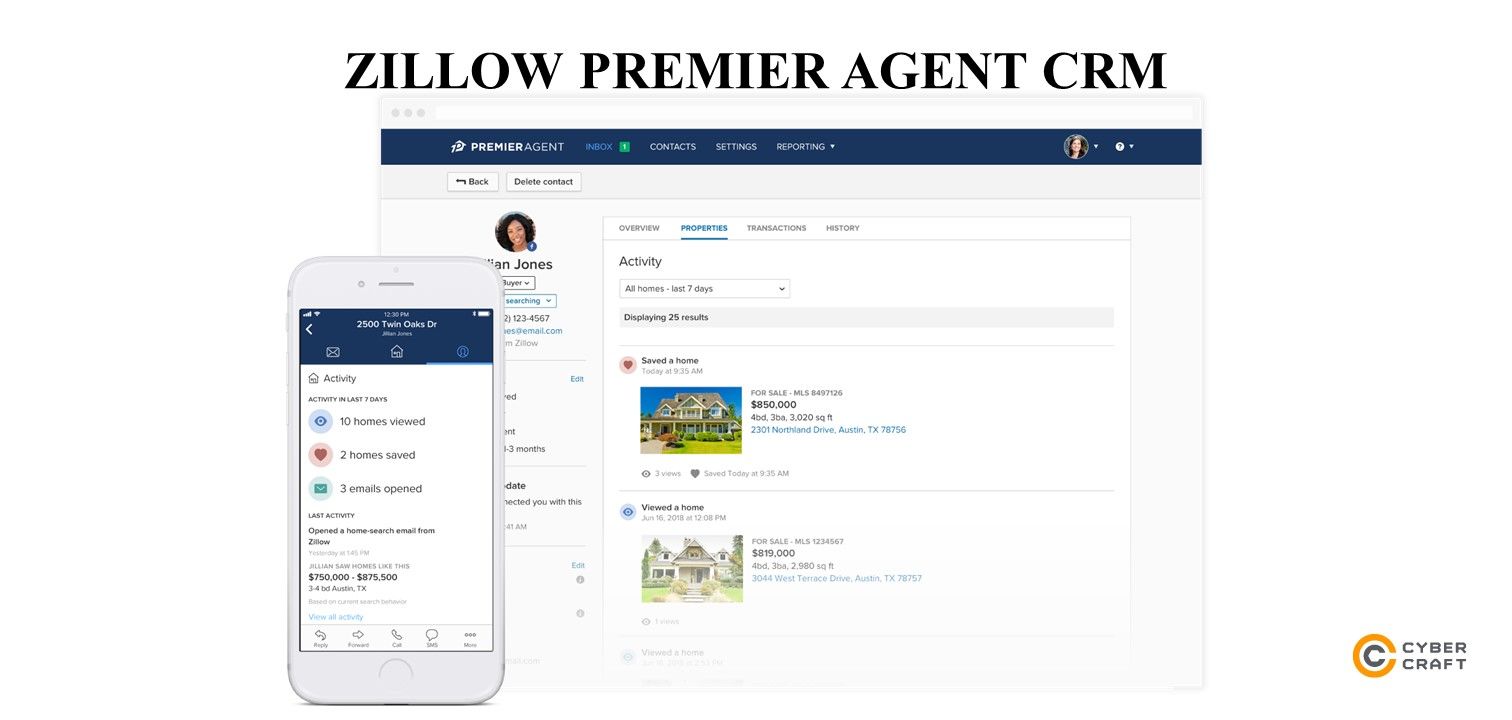 Implementation of the CRM helps to gain greater control over leads and work smarter, elevating performance. According to Zillow Group Internal, agents who use Zillow Premier Agent CRM close 3x more transactions than agents who don't.
Zillow Premier Agent CRM is free, yet it's not connected to any real estate websites besides Zillow.
Intuitive interface and functionality, together with customizable automations, are strong points of Freshsales. This real estate CRM fosters unification of sales and marketing and improves customer experience.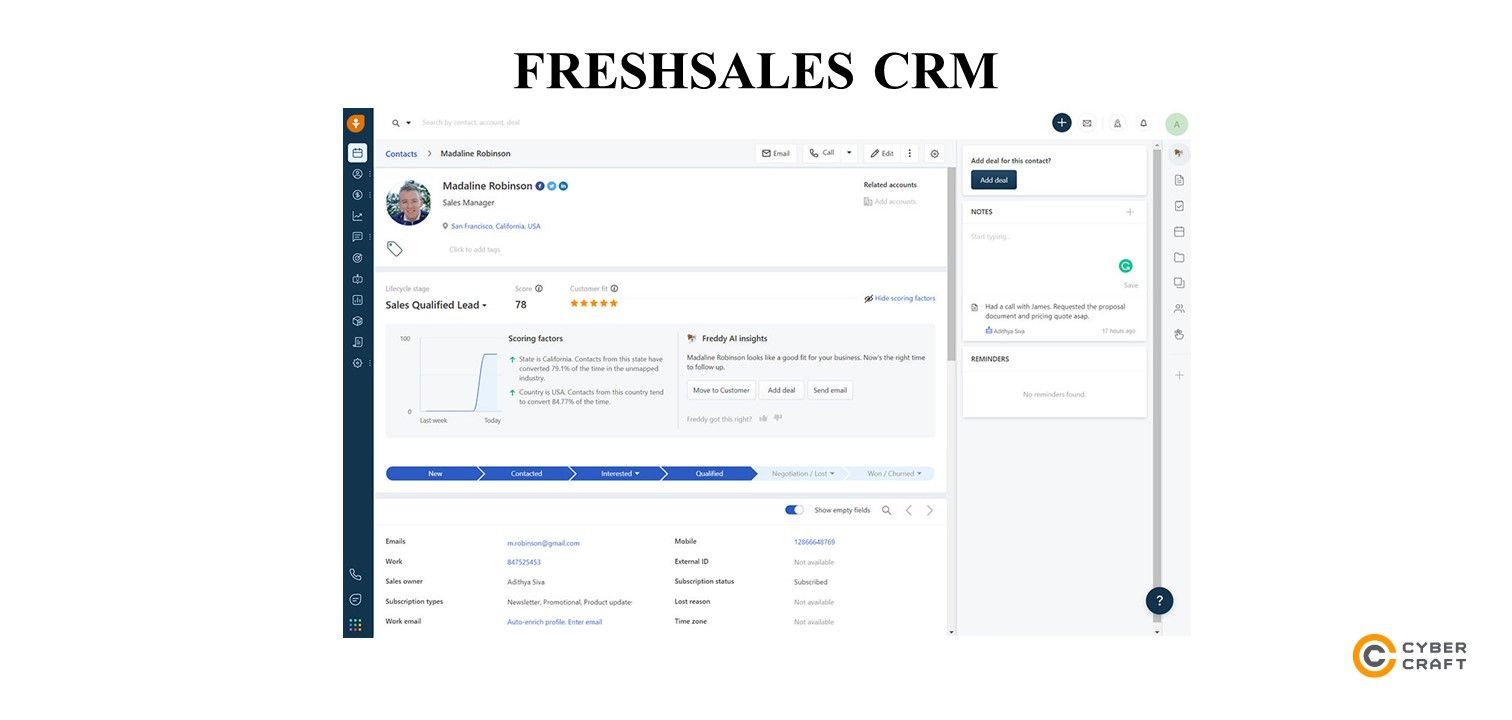 Implementation of Fresales enables personalized conversations with potential customers – agents check website activities and get important information from the contact management system. AI-powered tools in Freshsales help companies to prioritize pipelines and forecast sales.
Freshsales can be customized and be improved with additional modules to boost even more productivity. However, this CRM has less integrations than some competitors, basic plans are affordable. The most popular tariff plan is PRO ($39 per user/mo, billed annually).
Zoho CRM real estate unifies automation, sales and property management, thus allowing agencies or brokerage firms to accelerate sales. The reasons to opt for Zoho CRM real estate are omnichannel communication, drip campaigns, project management tools, third-party integrations, possibilities of customization, and self-service portals that connect buyers and sellers with agencies.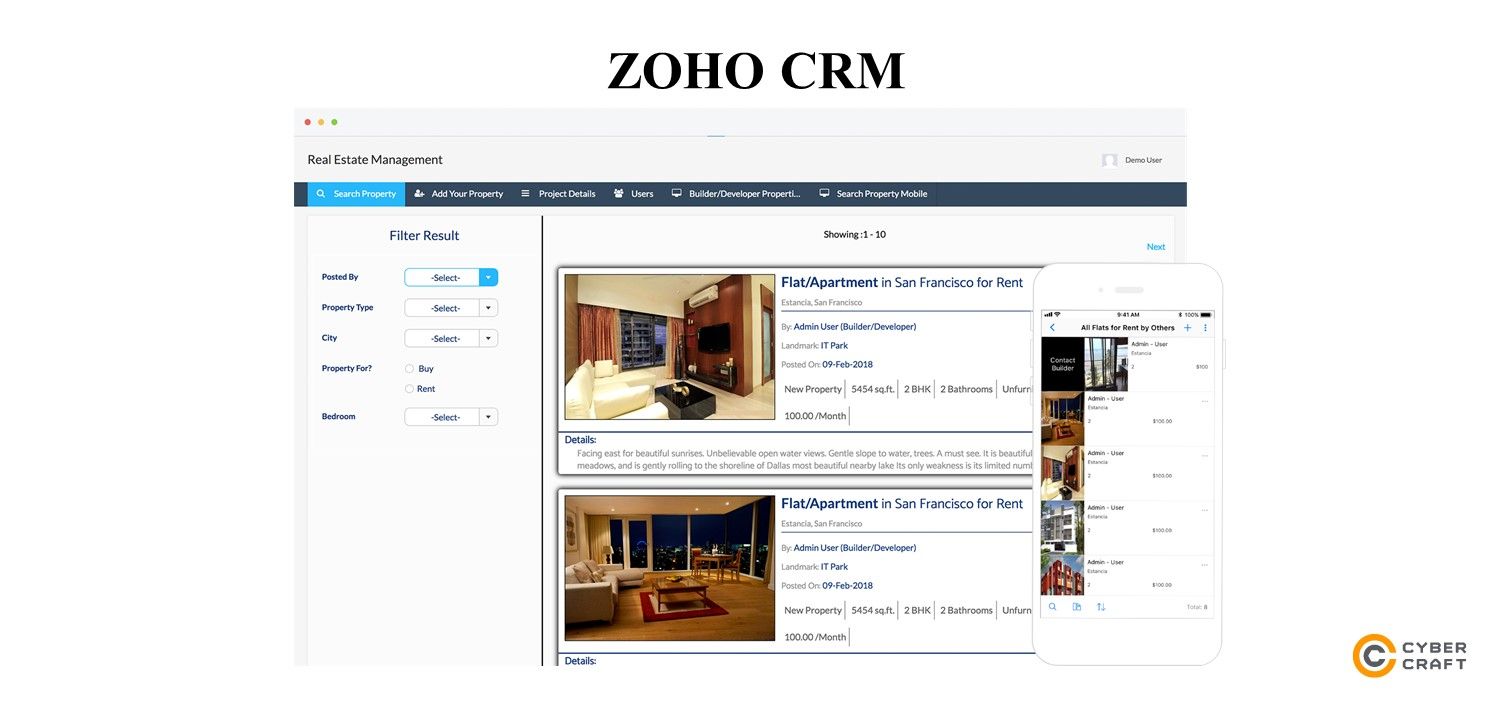 Zoho CRM real estate provides AI functionality: Zia picks up and recommends the best time to contact with customers, simplifies routine tasks, and calculates workflows efficiency. Centralized document management, in-built analytics, and inventory management are other prominent advantages of Zoho CRM real estate. Professional tariff plan costs €23 per user/mo (billed annually). The main downside of Zoho is that user support is provided by email, which is not as convenient.
AgileCRM isn't a customized solution for realtors, though rich functionality makes it suitable and convenient. Real estate companies apply it to store and track documents, manage tasks, track leads, and so on. Marketing and other tools simplify the creation of a consistent client experience.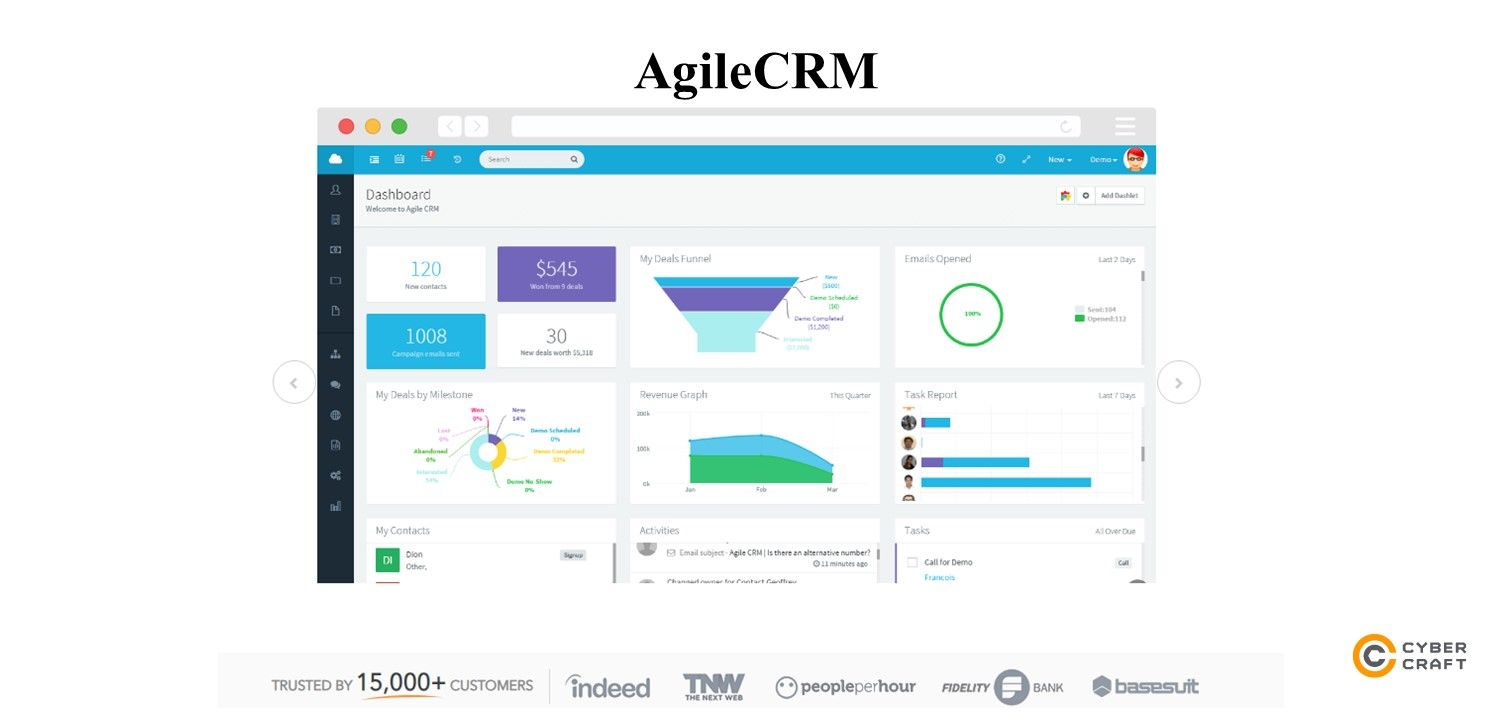 AgileCRM may be integrated with other tools, applications, and social media. If you choose a Regular tariff plan, prices per user per month will start from $29,99 (2 years).
The list of available real estate CRMs is long. You may opt for unmentioned solutions like Insightly, BoomTown, Streak CRM for Real Estate, Apptivo, Bitrix24, Contactually, Wise Agent, Pipedrive, Propertybase, Real Geeks, Market Leader, Top Producer, Rethink CRM, Realvolve, IXACT Contact, etc. The final choice depends on needs and requires immersion in business goals. So, we're here to help – CyberCraft can bring clarity to the decision-making process, helping with custom real estate CRM software development.