Modernizations of the teaching process and changes related to COVID-19 have provoked popularization of the e-learning development. Due to Market Research, the e-learning market in the US can grow by $12.81 billion in 4 years. This indicates that the industry prospers. We have all chances to see new software solutions in different spheres of education, namely:
Digital platforms.
Systems for evaluation and assessment.
Game solutions for e-learning.
System for online communication between students and teachers.
Software for administrative and managerial tasks.
Mobile apps for learning.
Corporate training apps.
VR simulators for e-learning.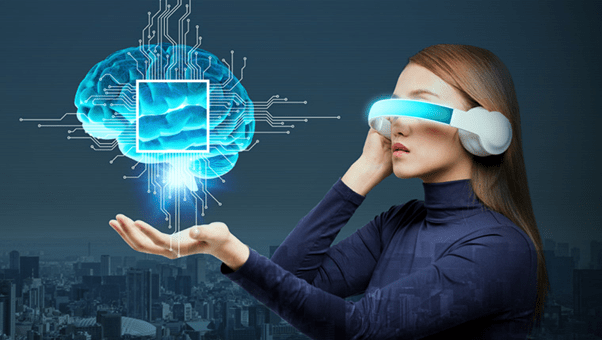 A lot of issues should be taken into account to develop e-learning. The main among them are principles related to preserving autonomy, problem orientation, bringing experience and knowledge in the most appropriate way.
Models of the custom e-learning development
1. ADDIE.
Framework ADDIE can be used by designers and developers who are involved in the process of e-learning development. This looks like an instruction that shows how and when to move from one stage to another. The first stage is the analysis. It includes the research of potential users, their aims and behavior, identifying other significant moments – from constraints and desired options to pedagogical peculiarities of the e-learning product.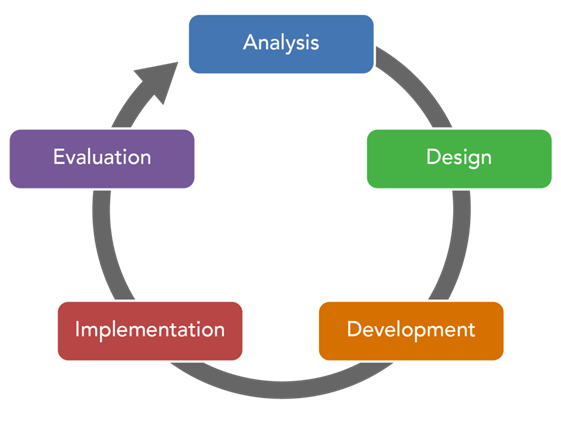 When the analysis is completed, it's time to move on to the next stages: design, development, implementation, and evaluation. Such an approach can be operationalized in a few simple steps. If you use ADDIE developing e-learning, please note that evaluation is the last step here. The development can go in the wrong direction and it can be realized in the same end when it's too late to make changes. To avoid such a scenario, the evaluation should be carried out after each stage. Anyway, there are also other models of custom e-learning development.
2. Agile.
This methodology should be widely used for software development connected to e-learning. In such a case small teams work on a product together, short iterations, which lasted one to four weeks, are being used. As a result of iteration, the team receives a part of a product that could be shared with any stakeholder. It helps to succeed in receiving feedback.
The main Pros of Agile Methodology for e-learning development are:
Collaborative process. It can result in a higher level of product quality.
Possibility to test and correct the product after iteration.
Customers receive a solution as fast as possible.
High level of flexibility (changes can be made at any stage).
Continuous real-time improvements.
Review of areas of e-learning development
1. LMS development.
This kind of software helps to manage the educational process. The main functions of LMS are as follows: analysis, preparing reports, evaluation, collection of data, etc. Learning Management System makes knowledge more accessible.
It can be used to improve business processes as an instrument for employee training and team building. For example, any newcomer passes a basic course to understand the specificity of the company, its needs and aims. Also, LMS helps to improve the skills. It is useful for any e-learning business thanks to cost predictability and flexibility. Among the advantages you will find different peculiarities of a Learning Management System, namely:
A rich feature set – from monitoring progress to the evaluation of the results with time tracking.
Cost-effectiveness (companies that use LMS spend less money because they do not rent any space for training and avoid printing additional materials for learning).
Private communications among users of the system.
The existence of social and gaming tools that make learning more exciting.
Information can be provided in small quantities which simplifies its perception.
Classification and models of LMS for e-learning
According to the internal classification, LMS for small companies and enterprises differs. It is related to the needs of such organizations. Any big company has a scalable software solution; LMS can be expanded with new courses or users at any moment. LMS for e-learning used by small companies is simpler and cheaper. These Learning Management Systems can be free or commercial. Perhaps, you know the most famous open-source LMS. For example, Moodle, Open edx, ATutor.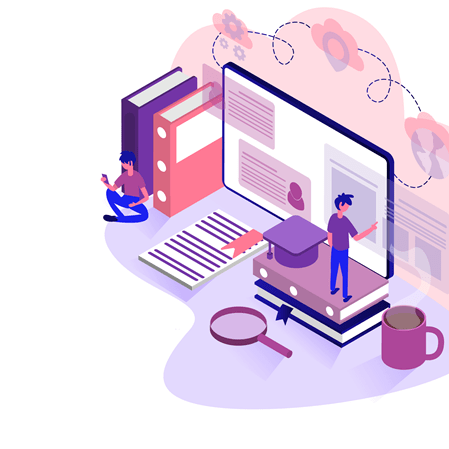 If to speak about proprietary LMS they are closed-source. Though, it's not allowed to change basic code. The most well-known among such LMS are Blackboard Learn and Schoology.
LMS for users is classified on the SaaS or licensed product. As usual, SaaS LMS are cloud-based, scalable, and flexible. There is a great demand for such LMS among small and middle-companies that do not have a server or technical expertise. Licensed products with unique options or customization can be used by big companies. It is located on its own services.
2. Creating learning portals.
An optimal learning portal enhances the experience of users. It can be based on open-source, free software. E-learning portal includes a system of in-built evaluation for students. Such a system includes regular and certification quizzes, grading. Among additional options, you can find different simulators and labs. Any e-learning portal can be a kind of standalone software.
3. Building an online course or program.
Custom e-learning development includes preparing courses that are more useful than traditional training. They can be used for new employees of the company or just for anyone interested. To develop e-learning courses various sets of instruments can be involved – from multimedia and video conferencing to whiteboard tools. Additionally, developers use converting tools that help to receive a text from audio. They can also create a forum for online discussion.
Do not forget about a mobile version that must be accessible for students who want to get acquainted with new materials and evaluate their progress. It's also possible to add a payment system if the online course provides external usage.
4. Virtual Classroom development.
The modern virtual classroom allows users to visit a class anytime from anywhere. Here they can take part in a video or voice conference, chat with the instructor and other participants, get acquainted with new material. If to sum up the virtual classroom is a kind of a digital classroom. To be modern and convenient it should include different options and possibilities – from video sharing and recording to providing the needed environment for conducting lessons.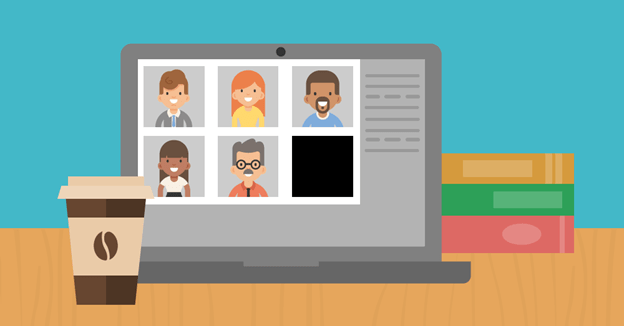 You can find different peculiarities among the main features of the virtual classroom:
Video conference for communication between teacher and students.
Whiteboard with the possibility to show diagrams or demonstrations.
Chat and sub-chat to ensure collaboration between students who can share their opinion and take part in the discussion.
Recording of the lessons. Thanks to this option, you can save live lectures and get acquainted with them later.
Various content types – from videos to animations – help to assimilate the information.
5. E-learning apps development.
Due to Reuters, by 2022 the total worth of the global learning market will reach $275.1 billion. E-learning app is a significant part of this market that must bring value and make the educational process accessible and simple. To be useful for users it should solve their problems. Therefore, to implement an app previous customer analysis must be conducted. The product can be tested on the target audience. It's also a good idea to combine theoretical and practical lessons.
An app will be in demand if it meets several requirements and consists of useful instruments, namely:
Simple navigation.
Useful tooltips.
Progress tracking.
Different options for presenting information in various ways.
An example of a common e-learning app that has hit the jackpot is Duolingo. It is created to learn new rare and widespread languages. Each lesson is supplemented by a practical test that allows you to consolidate the knowledge.
There are also other bright examples of apps for e-learning, namely:
Semper.
Wolfram Alpha.
Brainscape.
ExamPrep.
SAT Up.
Note that gaming elements in e-learning apps make the educational process interesting and interactive. Users appreciate such a gaming element as a battle mode. They are more engaged in the process if they compete with each other. Also, an e-learning app becomes better if it is built with the help of modern technologies related to Artificial Intelligence, Big Data, and Machine Learning. They serve to build top-notch chatbots and other toolkits of an app.
Virtual reality in e-learning
VR is one of the new trends for e-learning. Due to VR technologies, users become a part of the 3D world. They don't need to look through texts and images, using clicks for navigation. They interact with new material with the help of virtual instruments. Let's imagine the geographical course where students just look at a world map. It's quite boring. VR allows moving 3D globe, exploring new regions and places. Isn't it engaging?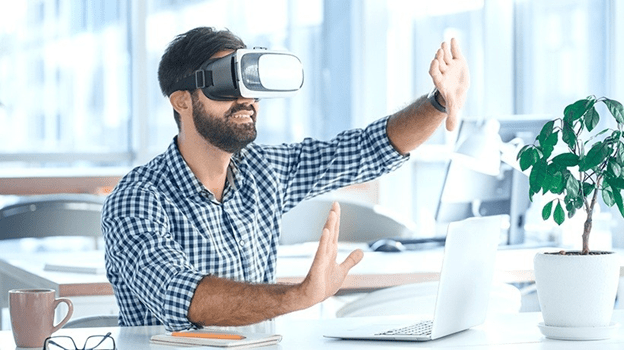 Another area for VR is related to compliance training. Students can experience unsafe situations here, avoiding any risk for their health. In general, there are a few different ways on how to use VR:
Explore various scenarios.
Make E-trips through time or space.
Prepare VR classrooms that can be fully digital.
To sum up…
If you need a literate development team to build the e-learning product CybeCraft might be a perfect choice. We can help you to develop a prosperous e-learning app or any other product among the above mentioned.
Product creation includes separate phases. First of all, we define the project needs and a roadmap to its realization. In the next stages, our team prepares MVP and test prototype. Only after passing these stages we can move on and build a final product. Also, we are ready to help you with promoting and advertising. Feel free to get in touch with CyberCraft to receive more information.