Custom software aligned with the client's needs in terms of functionality and features may be the first step towards the digitalization of the small business. However, before investing in designing and building unique products, you should analyze existing out-of-the-box (off-the-shelf) solutions.
Out-of-the-box software has a lower price and can be deployed faster but needs additional installation and configuration. The main advantages of custom software development for small business include scalability, enhanced productivity, and cost-effectiveness for long-term use. With such tools, companies reduce costs by avoiding regular payments for off-the-shelf software.
What Custom Software Small Business Needs
Software for accounting
Accounting software is applied for online payments, invoices, financial monitoring, and reporting. Also, small and medium businesses use it to track financial KPIs and improve overall productivity.
To comply with the needs of the average company, accounting software should include invoice processing, tax processing, payroll management, automated reports, and banking functions, which imply the synchronization with a bank account and ERP or CRM. Let's elaborate on the functionality of the accounting software.
Invoice processing here means monitoring and management of outgoing and incoming invoices. Therefore, customer data, from names and addresses to financial details, can be stored in the system, whereas invoices are generated automatically. Pre-built invoicing modules in accounting software have the following a+dvantages: SMS or email notification, customizable design, one-click payment processing, enhanced security, and so on.
In contrast to out-of-the-box solutions, custom accounting software, iis flexible and scalable. Its implementation allows small businesses to reduce expenses, create detailed reports and obtain valuable insights, and improve financial operations in accordance with the current needs, opting for cloud, mobile, desktop accounting, or even their combination.
With custom accounting solutions, finances tend to take second place – business owners concentrate on what really matters, without getting distracted by the operational activity.
One may ask whether it is possible to deal with bookkeeping and not to invest the money in the custom software. Available options are Excel and out-of-the-box solutions, such as Intuit Quickbooks, Freshbooks, Freeagent, Wave, and Xero.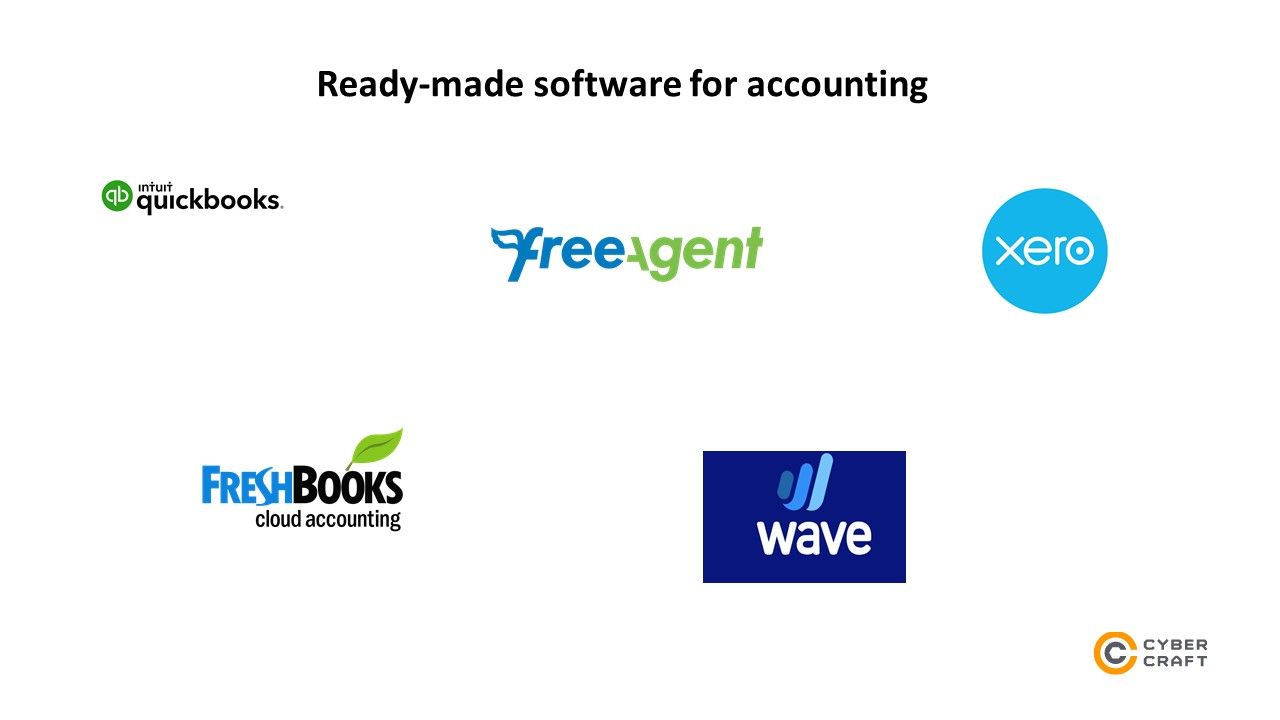 Excel enables companies to maintain financial records and compare data for different periods, its functionality isn't specifically adapted to accounting, though. The same cannot be said for ready-made solutions like Intuit Quickbooks, Freshbooks, Freeagent, Wave, and Xero, which have extended functionality and may be integrated with third-party applications. Despite the benefits of out-of-the-box accounting solutions, they have limitations related to reporting, invoicing functionality, third-party integrations – custom software provides greater adaptability to company objectives.
E-commerce software
Leading e-commerce platforms of 2021-2022 include WooCommerce, Shopify, Squarespace Commerce, Wix eCommerce, Magento, PrestaShop, X-Cart. Websites built with the application of named technologies are complemented by other types of e-commerce software. Mobile applications are also perceived as e-commerce software that generates and converts leads and streamlines buyer flow, fostering customer loyalty.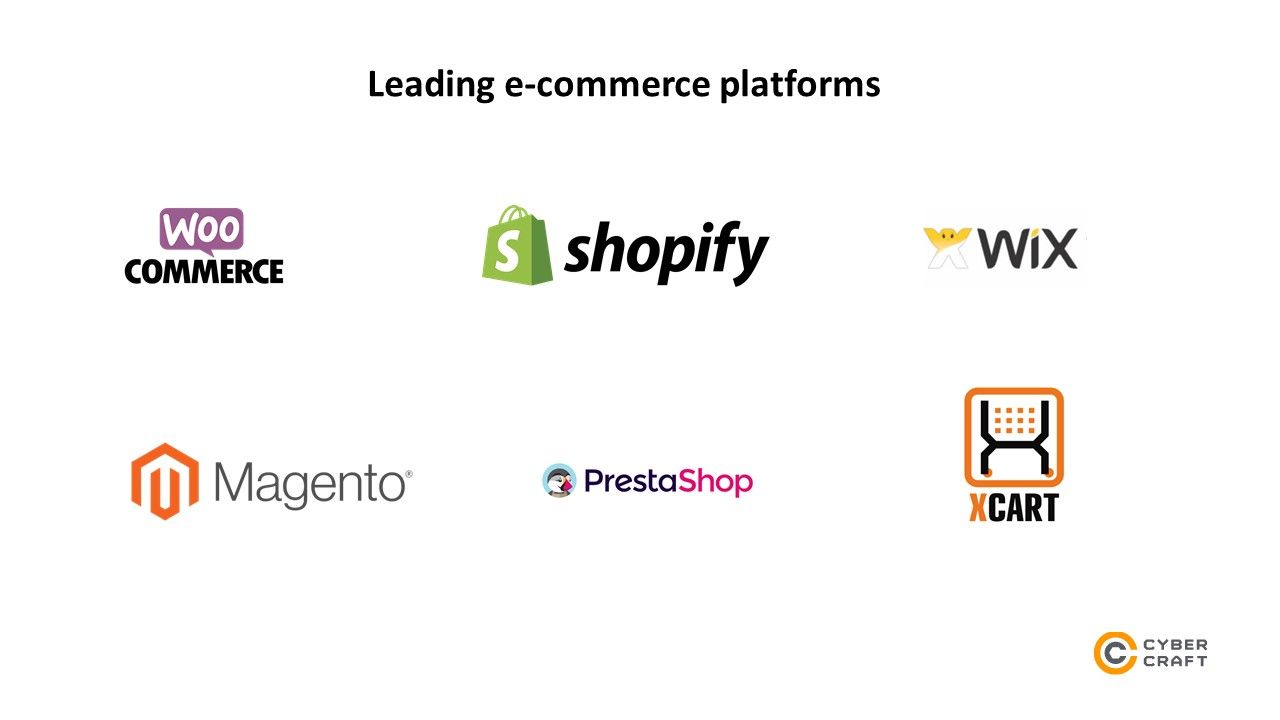 Custom e-commerce software can imply microservices-based development and be powered by modern technologies, namely voice recognition, Augmented Reality, Artificial Intelligence, Internet of Things.
ERP and MRP
The next type of e-commerce software is a combination of Enterprise resource planning (ERP) and Material Requirements Planning (MRP). Such systems are suitable mainly for growing middle-sized businesses that require the seamless integration of all applied tools. ERP and MRP fit the needs of business-to-business (B2B), business-to-consumer (B2C), and direct-to-consumer (D2C) retailers. As soon as the operating activity of retailers becomes more complex, they require ERP to automate and control business processes and MRP to calculate required materials, plan and analyze capacity.
If the moment for ERP integration is chosen appropriately, small and medium retailers will obtain the following advantages:
Increase in sales
Reduced inventory costs
Growing product's popularity and visibility
Flawless integration
Data consistency and elimination of redundancy errors
POS systems
Considering e-commerce software for small and medium businesses, we should mention point-of-sale (POS) systems. POS is a combination of software and hardware that enables completing purchases by the customers. With the help of POS, businesses process customer transactions, keeping track of items that leave the store and are being delivered, as well as inventory balances.
To augment sales, small and medium retailers apply POS systems, implementation of which intensified during the pandemic. The challenge here isn't only to choose the appropriate POS but to integrate it with a website, sync payment gateway, import customer and inventory data.
Small and middle-sized businesses involved in retailing can use ready-made POC systems that still should be customized in accordance with their needs. Suitable systems include Lightspeed Retail, Square, Vend, Shopify.
Benefits of having a POS system (custom or out-of-the-box with advanced settings) comprise the following items:
High efficiency through tracked items and delivery
Improved business administration and staff management
Automation and minimizing of human errors
Selling through social media
Centralized CRM for tracking of customers
CRM systems
The last type of e-commerce software is a customer relationship management (CRM) system that helps to manage customer-related information and analytics data. With CRM, retailers can act more literally and provide customers with personalized service. The number of available CRM systems is around 4000, and the CRM market is expected to reach $80B by 2025. CRM systems automate external and internal processes, from emails to financial reports, through smart workflows for which certain actions serve as a trigger.
Basic classification implies three types of CRM systems: collaborative, analytical, and operational.
Operational CRM boosts business growth through marketing, sales, and automation.
Analytical CRM gathers customer data to create valuable insights.
Collaborative CRM promotes exchanging of information between departments and teams.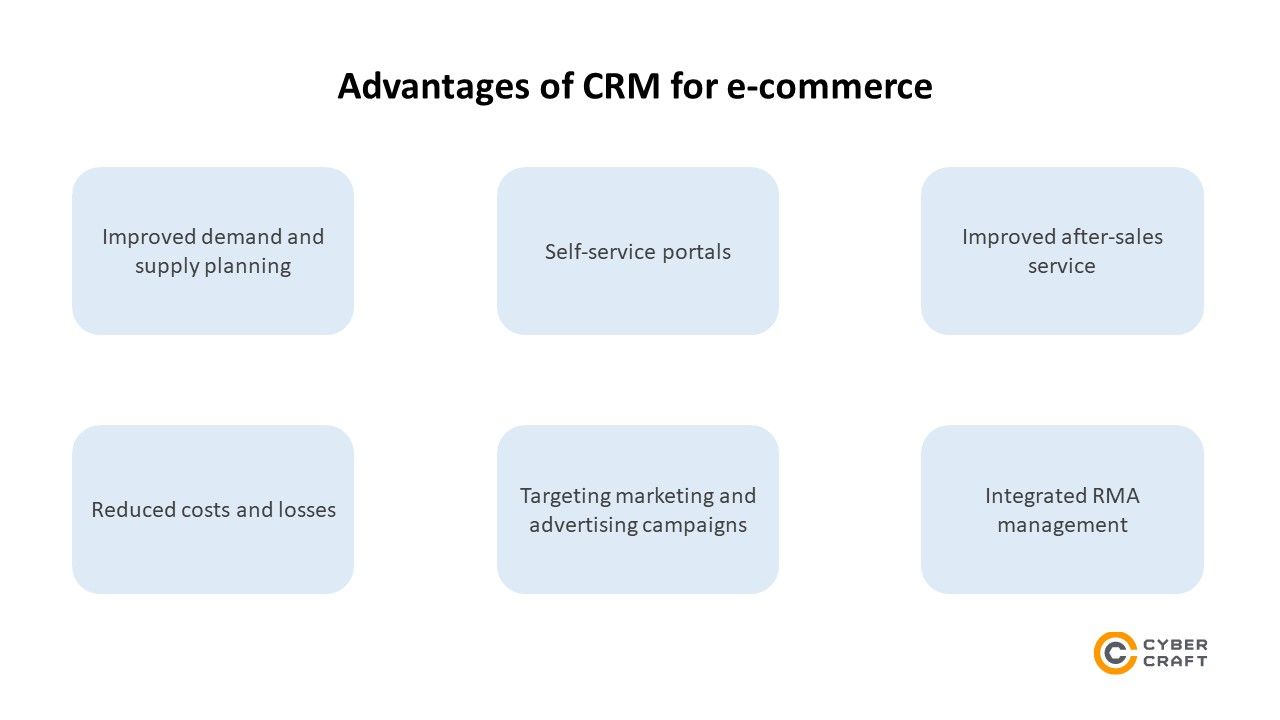 SaaS CRM solutions that are demanded among small and medium retailers are Pipedrive, Copper, Capsule, Zoho, Hubspot, Act!, Salesfoce, and so on. These solutions lose to custom e-commerce CRM in terms of flexibility and functionality, but part of them can be customized according to business needs.
Developed from scratch, the CRM system is the source of real-time insights that enable making well-defined business decisions and tracking performance. The total price depends on the complexity of the CRM and development company, so small companies may find an affordable solution, excluding unnecessary capabilities.
Software for collaboration and task management
Custom project management software lies in the core of medium businesses that are steadily growing and involve detailed analysis of data gathered from different sources, tracking of results, and preparation of schedules and plans for efficient activity.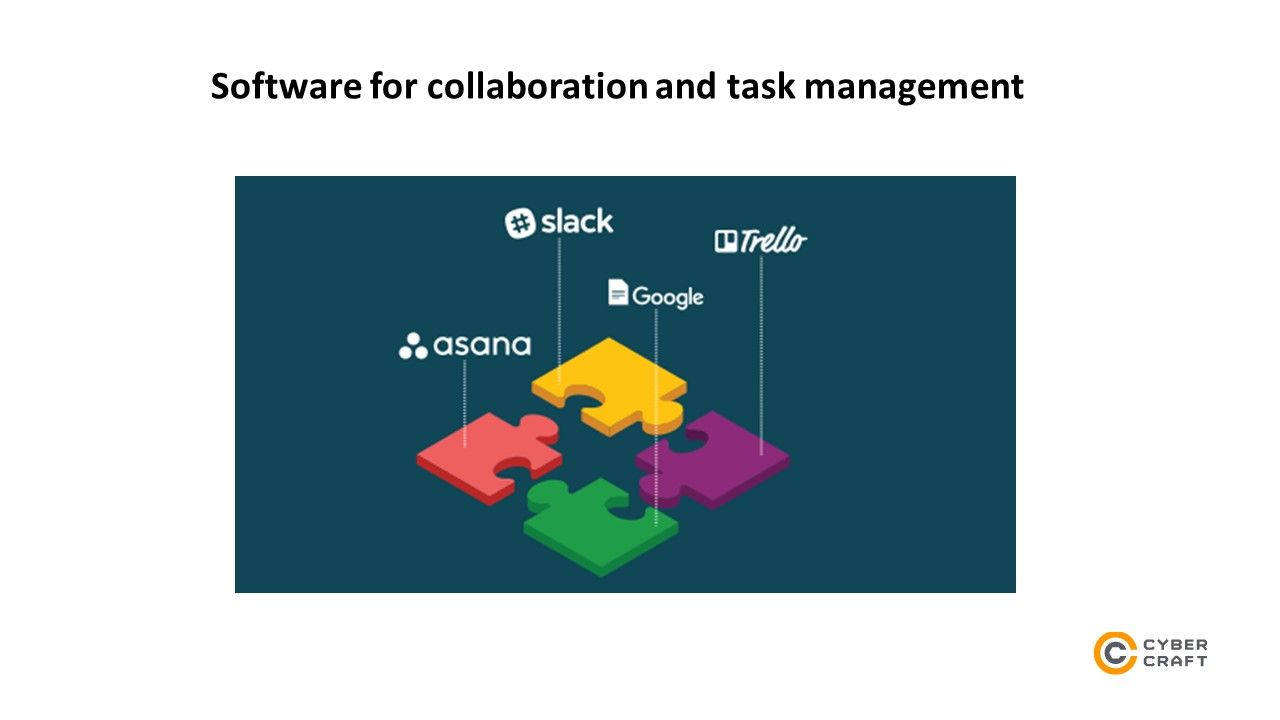 Small businesses prefer ready-made solutions to reduce costs and leverage software as fast as possible – Trello is the most common tool for collaboration and task management. It grants users needed functionality for marketing campaigns, sales tracking, customer support, and content development, yet can't help to deal with invoicing or budgeting. Teams embrace Trello as a must-have tool for monitoring tasks completion, and valuable insights provided by Trello may even force them to pivot and choose another strategy of the project implementation.
As for custom collaboration and task management tools, they improve the way companies work, allowing businesses to:
Improve processes through the literate tracking and planning
Manage tasks and track progress
Create reports with the visualized object-related data
Simplify collaboration
Enhance project management via charts, interactive dashboards, and other tools
Plan and control deadlines
If you decide to apply out-of-the-box project management software, you may opt not only for Trello but for other tools, namely Wrike, BaseCamp, Zoho Projects, LiquidPlanner, Microsoft Project, or Teamwork Projects.
The price of such tools ranges from $10 to $99 per month, yet to make a competent choice besides prices, you should take into account whether it's possible to apply the tool by multiple users, available functions, and capabilities.
E-learning software
Small businesses whose sphere of activity isn't related to education use e-learning software for employee training and professional staff development . In this case, custom e-learning solutions comprise primarily digital platforms and applications. And it is noteworthy that companies achieve a positive response for e-learning by using gamification.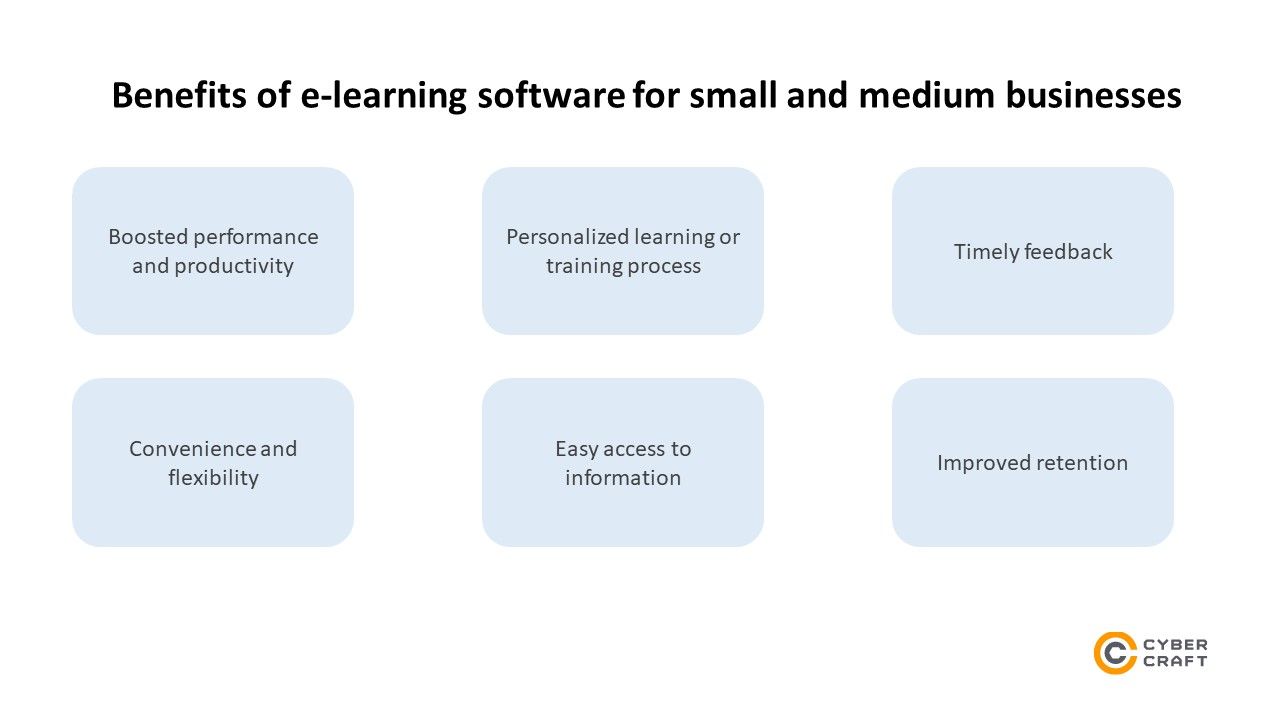 Software for online payments and email marketing
PayPal, Square, Stripe, Amazon Payments are suitable online payment solutions that could be easily set up and used. Small entrepreneurs usually apply PayPal, however, Stripe with its possibilities of customization better suits middle-sized companies. PayPal offers the possibility to send and receive payments and is widely adopted in e-commerce and other areas.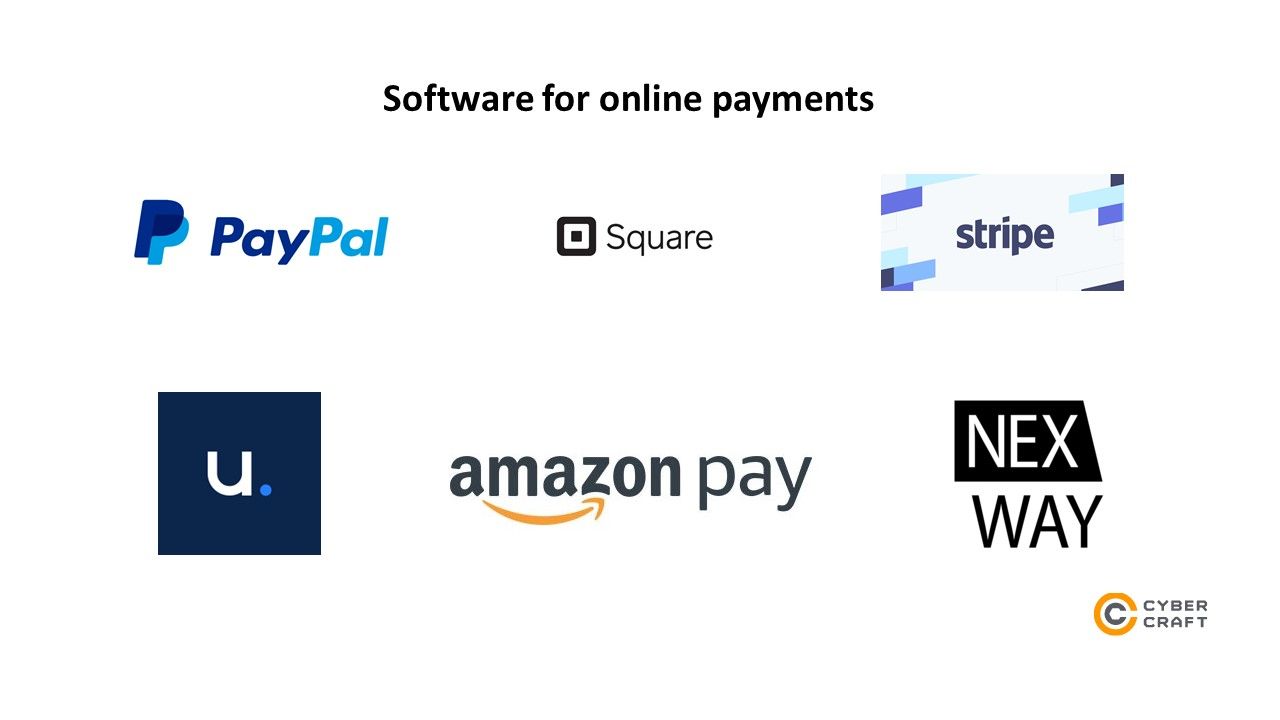 As regards email marketing, available out-of-the-box tools are MailChimp, Campaign Monitor, Emma, AWeber, etc. MailChimp holds a leading position because it's affordable and flexible (fully free if the total number of subscribers is less than 2000). Higher-level plans envisage behavioral targeting, customized templates, and segmentation.
In the case of online payments and email marketing tools, small and medium businesses might decide to opt for merging out-of-the-box and custom software. CyberCraft team helps companies to set up software with desirable features, apply the best practices, and transform business needs into disruptive software.
Software for Human Resources
According to Verified Market Research, the HR software market is predicted to reach $33.57B by 2028. The reasons for such growth include an increase in cloud and mobile deployments, automation, and technological adoption. So, let's dive deeper into existing HR software solutions and find out the benefits of customization.
Custom human resources (HR) software contributes to employees' growth and development, simplifies collaboration, streamlines processes of onboarding and retirement. The positive impact of such systems on small and medium businesses is confirmed by efficient team collaboration and the reduction of paperwork. Employees apply HR tools to check payroll, private data, benefits, available day-offs, etc.
Customization aligns software with companies' goals, introducing document management tools, additional payroll, and other components. The development process depends on the current needs of the organization, which may be interested in attracting and nurturing new talents, improving collaboration, ensuring well-being, workforce planning, etc.
Internal classification of HR software includes the following categories:
Human Resources Information System (HRIS) – the general term that brings together all types of multi-function HR software
Tracking systems
Recruiting software
Learning management systems to track an education flow
Performance management software
Employee engagement
Small businesses opt for off-the-shelf HR software to avoid excessive expenditures.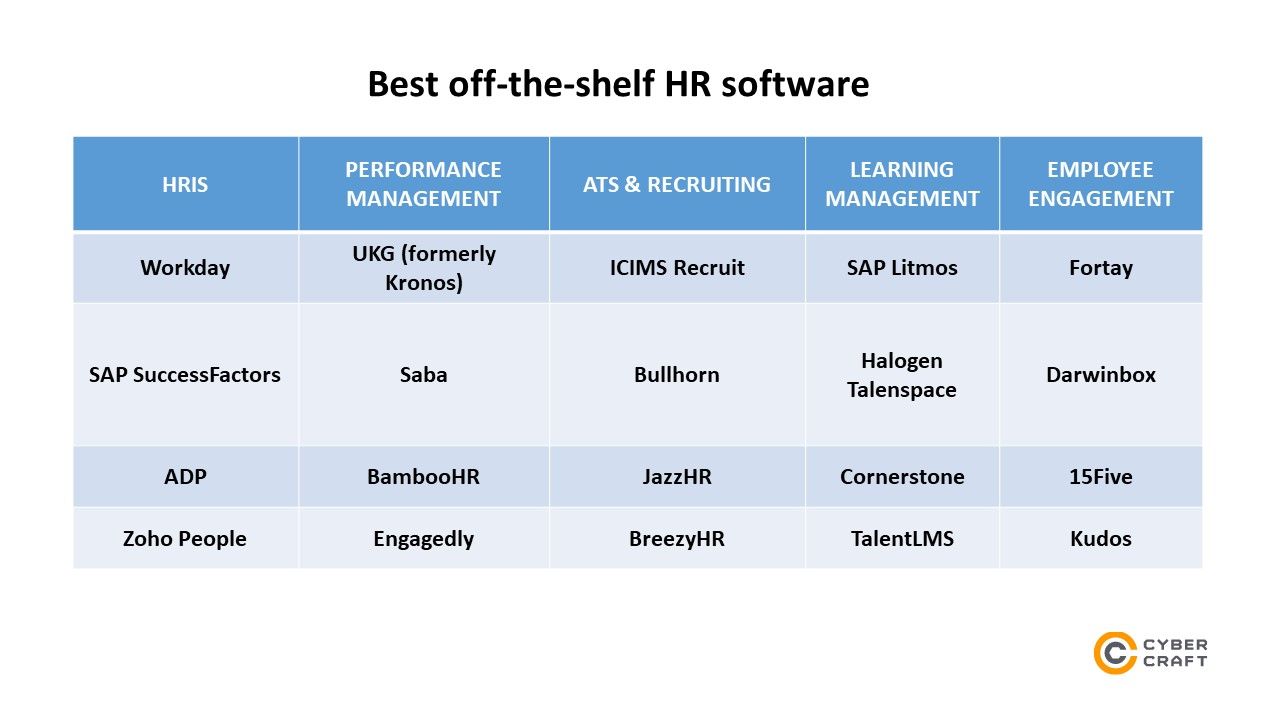 CyberCraft team develops custom software for small businesses that work in various industries, from retail to e-learning, fintech, and real estate. We bring together our experience and the latest IT advancements to deliver great custom solutions to businesses of all sizes.